5 min read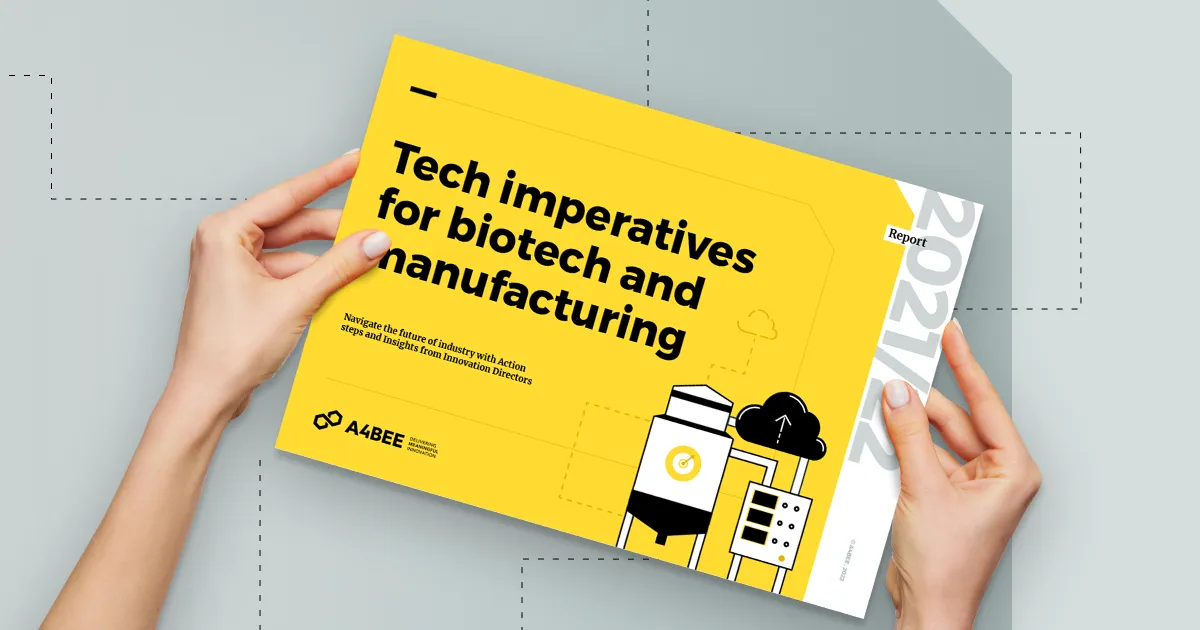 Still biotech or already techbio? The results of a Tech Imperatives for biotech 2022 report indicate changes in biotech production and management.
Thanks to the rapid development of digitalization, automation, and artificial intelligence, there is a rising tide of innovation related to the production of new medicines. This means new opportunities to fight rare diseases, products that improve quality of life, and more sustainable food production. Technological opportunities, challenges, and competitive advantages in the biotech industry were explored by the Polish startup A4BEE.
Tech awareness among biotech workers is a must
A survey conducted by technology startup A4BEE with biotech and pharma companies shows that in 2022, organizations look for opportunities in deep analysis & management of production data and strengthening digital and technological competencies in employees. According to those surveyed, digital transformation touches all organizational and cultural aspects of a company, and cannot be limited to just implementing new services. "The crucial thing is to build digital awareness and transform the company culture to allow us to think differently about technology. Thanks to this approach, employees at various levels will be able to harness technology." — says Tomasz Staszelis, Chief Digital Officer, Polpharma.
– The exponential growth of digitalization, automation, and AI are fuelling a new wave of biotech and manufacturing innovation. This will result in a breakthrough in products and technologies that fight diseases, improve our health, and provide more sustainable food production. However, on the journey to fulfill this vision, biotechnologists need to build digital technologies awareness in their ecosystem, understand the fundamental shifts underway and seize the vast opportunities — said Klaudia Kożusznik, Head of Growth, A4BEE
Modular Facility of The Future
Not only is digital awareness changing, but so is the approach to the entire manufacturing process. The future is small batches of drugs, faster production processes and agile labs. How do companies plan to achieve this?
Companies such as Polpharma and Polfa Tarchomin point to the need for modularity in labs, greater flexibility in scaling production, and plug-n-play solutions that allow scientists to focus on science rather than technology.
External factors are also behind such a significant change — the market for biologic drugs for rare diseases is growing, with 1,863 cell and gene therapy projects currently underway. Each of these therapies is increasing the demand for flexibility and interoperability of hardware and platforms, and this is just one part of a huge sector.
New, cheaper drugs and new opportunities — a whole new chapter is opening up for biotechnology. Increasingly, we will see a shift in emphasis from Biotech to Techbio — Cloud computing, IoT, Modular Design, Data lakes, Digital Twin, and AR/VR are competencies increasingly sought after by the industry.
Main tech challenges
The tremendous growth of biotech and manufacturing companies goes hand in hand with new challenges. The main ones occur among process productivity with the goal to make processes faster in the future powered by modular, scalable, and digital solutions; which would be more cost-effective, meet GMP (Good Manufacturing Practices) and security compliances, shorten time-to-market, and improve quality. Others come from the fact that the highly regulated nature of the biopharmaceutical industry has delayed the adoption of new technologies.
The report responders' 3 main challenges are:
How to harness outdated infrastructure;
How to ensure security while implementing digital solutions;
How to establish business value from data.
The biotechnology sector is constantly looking for new solutions in software & hardware connectivity, automation of data collection & processing, and strengthening the continuity of the bioprocess. — Nowadays, many companies harness data only to analyze the past, but the real value of data is to predict the future. — mówi Małgorzata Stokrocka R&D; BD; Quality Director, Polfa Tarchomin
Competitive Advantage
The survey results indicate that if the biotech sector wants to continue to maintain strong growth and gain a competitive edge, its leaders should focus on four technological areas: connectivity and automation; user experience (UX); and empowering their employees to use digital resources and data wisely. Most importantly, the companies need to implement scalable and modular solutions to reduce R&D and production costs & time.
About the report
The research brought together innovation directors from global companies who shared their perspectives on the current state of their industry.
Method: In-depth interview supported by analyses of third-party research
Participants: Directors / Heads of Innovation in international biotech and man